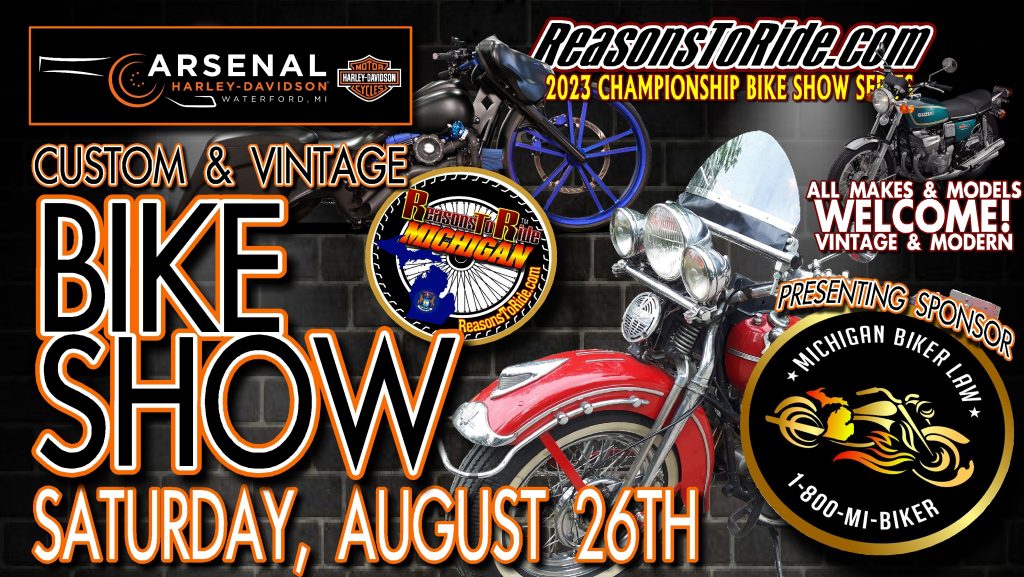 Arsenal Harley-Davidson, Waterford Michigan – Saturday, August 26th
Last year's show had to be rescheduled due to the weather and challenging forecasts, so we are getting a jump on this one in '23. This show, presented by Michigan Biker Law, welcomes all makes and models and features over 40 trophies – including the chance for a BEST IN SHOW Championship Series Belt!
Make sure that you're following us on Facebook ( www.Facebook.com/ReasonsToRide) for updates as they are announced.
*Tentative dates. Date and details to be finalized and will be announced in future editions of RTR, on our Facebook pages, or at ReasonsToRide.com
Register ONLINE at ReasonToRide.com!
For more information, email us at BikeShowInfo@gmail.com and follow us online at www.Facebook.com/ReasonsToRidewww.Facebook.com/RTRMichigan.
INTERESTED IN HOSTING A TRO BIKE SHOW AT YOUR LOCATION IN 2023?
We are currently reviewing locations and locking down dates for our 2023 Bike Show Series. We have a LIMITED NUMBER of dates available still. Email us TODAY for more information at BikeShowInfo@gmail.com.