YOU HAVE A CHANCE TO WIN THIS WORLD CLASS VINTAGE MOTORCYCLE!
Just for checking in at our Feature Ride n Win Ride Stops in 2023
Once again, Reasons To Ride will be offering riders the chance to win an incredible vintage motorcycle – restored by the Wheels Through Time Restoration Shop – simply for checking in at featured Ride Stops next year.  The first feature bike for our 2023 Ride & Win Challenge is this 1937 Harley-Davidson Knucklehead Bobber.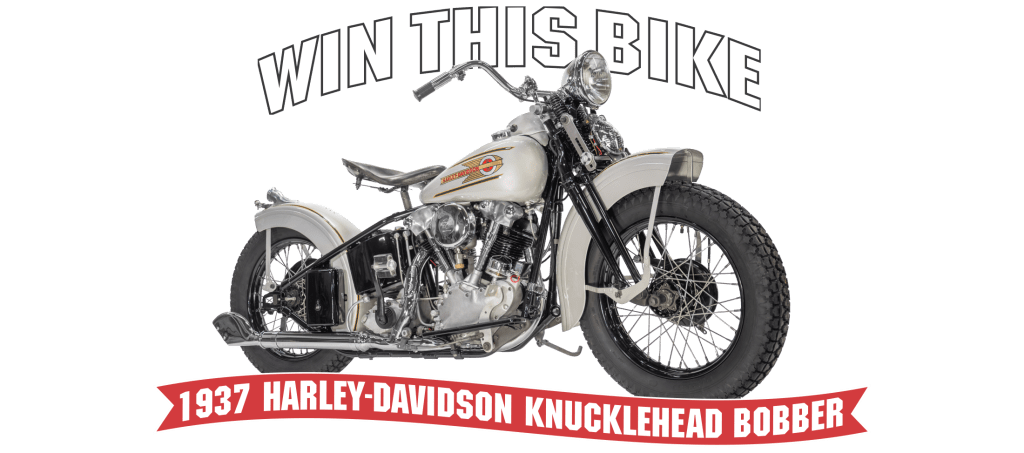 "this 1937 Harley-Davidson Knucklehead Bobber, finished in HD custom Silver, striped in Black, and edged in Gold. This 61c.i. Knucklehead powerhouse sports a 4-speed transmission, bobbed fenders, and Flanders accessory risers and bars, flaunting its authentic period-modified look and feel." – Wheels Through Time
The Wheels Through Time Museum is home to one of the world's premier collection of rare American motorcycles and memorabilia. Located in Maggie Valley, North Carolina; the museum houses over 300 rare machines.
In support of this wonderful organization and in appreciation for not only the work they do but the machines themselves, Reasons To Ride has committed to awarding riders with a chance to win this world class motorcycle as part of the 2023 Ride n Win Challenge.
Starting in May, riders can check in at featured stops throughout the Midwest. Each check-in counts as a "chip in the barrell" and a chance to win this breathtaking bike!
Stay tuned for more information here in the pages of Reasons To Ride, or you can always visit the RtR blogs at www.ReasonsToRide.com for updates and a full overview of the program.
For information on how you can become a 2023 Ride n' Win Ride Stop – email us at Info@ReasonsToRide.com